Two days ago actress Deepika Padukone was seen on her way to London alongside her dearest Ranveer and Varun. While the reasons then were unknown, they are out now and it is extremely hard after to control our excitement. The reason that the couple were on their way to London was not to enjoy some vacations but to unveil the actress's latest wax statue in the museum of Madame Tussaud's.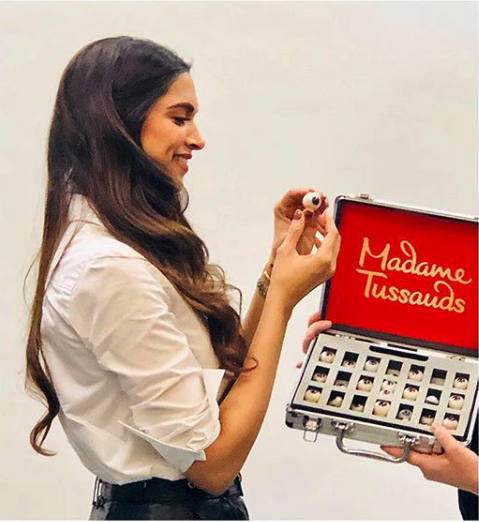 Last year the actress teased us with some of her snaps of messing around with the fake hair and measuring tools. It was then announced that the actress will be unveiling her statue in London, followed by Delhi. While we were not sure of exact dates of the unveiling, the anticipation was no less.
Unveiling of #deepikapadukone wax statue at #madametussauds #london #ranveersingh #instadaily #manavmanglani @manav.manglani
#deepikapadukone and #ranveersingh with parents in #london for @madametussauds #instadaily #manavmanglani @manav.manglani

A post shared by Manav Manglani (@manav.manglani) on
EXCLUSIVE 💥 Well now, the World's Most Beautiful Woman, has a twin 😝🤩 @deepikapadukone unveils her Wax Statue at #MadameTussaudsLondon . . . #deepikapadukone #waxstatue #manavmanglani #exclusive #london #paparazzi #beautiful #gorgeous #queen #instagram #bollywood #padmavati #chhapaak

The actress went live few hours ago in her Instagram and was seen unveiling her gorgeous statue with her family. The actress was supported by her parents, in-laws and husband for the joyous occasion. It took over 200+ measurements and months of work to be able to make a real looking statue of Deepika and the results are amazing. It seems that the ever scintillating Deepika has got a twin now.
Pictures-Instagram
Text- GirlStyle IN