Tsum Tsum makeup, anyone?
Cathy Doll, a Thai cosmetic brand that collaborated with Disney for their limited edition Tsum Tsum makeup collection back in October 2018 is now working hand in hand with Guardian (Malaysia) to bring it closer to their Tsum Tsum fans.
Though it is not available in our Singapore shores yet, we believe it will not be long before it is here. In case you don't remember what we are talking, let us refresh your memory.
In this collection, Tsum Tsum fans can find CC powder pact, oil control blur pact, CC cream, 2-in-1 lip and cheek chiffon tint, eyebrow pencil, mascara, eyeliner, stick blusher, eyeshadow and lip gloss.
# CC Powder Pact (Light Beige/Honey Beige)
If you have an oily/combination skin, then this powder pact is for you. Though the shades available are a little limited, we promise it is worth it because any purchase of a powder pact would allow you to bring home the most adorable matching storage bag.
There are more Tsum Tsum characters featured in this series than you think too.
Besides Winnie-the-Pooh and friends, you can also expect to see other popular characters such as Minnie Mouse, Elsa from Frozen and more.
Spotted your favourite Disney character yet?
# Oil Control Blur Pact
# CC Cream (Medium Beige/Honey Beige)
This CC Cream is made for girls who travel! If you don't want to spend too much time on your foundation and sun screen, get this. Not only can it brighten up your skin, it can also help you fight the harmful UV rays of the sun.
Similar to the powder pact in this collection, it is only available in two colours: Honey Beight and Medium Beige.
# 2-in-1 Lip & Cheek Chiffon Tint
If you want to achieve that Korean gradient lips look, you got to try this. And oh, did we mention that you can use it on your cheeks too?
This 2-in-1 lip tint is available in three colours: Salsa Red, Tango Orange, Wonder Pink.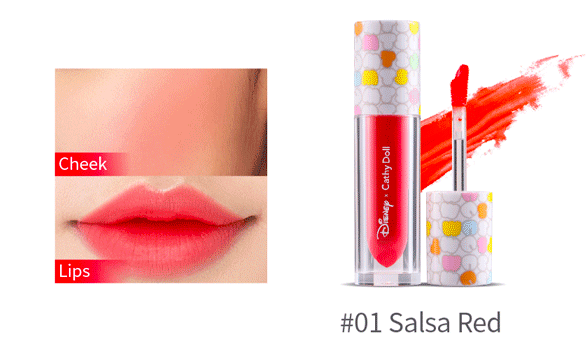 Wanna check out the full makeup collection? Click here!
If you (or your friends) are visiting Malaysia anytime soon, feel free to head to a Guardian store there and check out the exclusive collection. While stocks lasts.
Meanwhile, share this post with a friend who needs to check this collection out! ♡
Photos: Cathy Doll
Text by: GirlStyle SG