I didn't know some products that I use are not suitable for me. As a regular 25-year-old female growing up in Singapore,  I care about my skin, my hair and everything that concerns beauty. I keep an eye out for the hottest beauty product in the market and I panic when my skin goes crazy. I want to still look 25 when I turn 30, 35 and even at 40. 
Being in Singapore, I'm frequently exposed to the hot HOT sun. Sometimes, I'm too lazy to use sunblock. I thought sun exposure was my worst skin nemesis. But no, my lifestyle is. I thought SPF foundation was a good enough shield against the harmful UV rays. It's not enough, but at least it's better than nothing!
There are days where my makeup melts by midday and I grew familiar with the drill of fishing out my magical packet of tissue that will literally save my face and steer me away from a bad face day. I confess -I like to touch my face all the time! In fact, I often just wipe away things on my face and cover up despite knowing it's a bad habit.
Many would say that between the age of mid-twenties and forty is the age to start drinking collagen and stepping up your skincare game to prolong youthfulness.  To me, step one is understanding your skin first before you change your skincare routine or invest in a new product. Popular products work for many but that does not mean it will surely work for you.
My complexion looks healthy generally. I don't get pimples often. Still, I worry about my future skin health and if I am taking my 'okay' skin for granted. I want a deeper understanding so I researched and went for a skin consultation at New York Skin Solutions.
The consultant told me that lifestyle plays a big part in affecting the health (and appearance) of my skin. She accurately points out my lifestyle through a thorough skin analysis and gave me a recommendation. To make sure it's not a cookie cutter consultation, I pulled my friend along and here are the results.
My skin under super zoomed-in mode.

My friend's skin.
Indeed, both our diagnoses turn out to be very different.
Veron, my consultant, patiently shared with me what the images meant and revealed how some of my lifestyle habits affect my skin:
Spend too much time on computer/phone
Sleeping late
Don't drink enough water
P.S Dehydration is different from dryness.
Inconsistent use of sunblock
Frowning too much
Gosh, it causes wrinkles in both forehead and eyes!
She also gave me helpful pieces of advice about skincare. I never knew my skin is thin and I should avoid skincare products that contain alcohol. She also explained why upper lip hair removal service is not suitable for my skin type.
Working overtime, overusing computers, late-night suppers and sleep deprivation create stress on our skin. It affects our body's collagen production and results in premature ageing. So girls, take note, avoid bad habits and seek to know your skin better!
A Personalised Treatment (HydroCollagen + Skin Treatment)
After consultation, Veron's aim for the session was to help me hydrate and boost my skin health. Hydration aids in collagen production, which is something that is very important to me. To make things better, the treatment was very comfortable! I could just fall asleep there.
The 10-step treatment includes pre-treatment massage, makeup removal, milk cleansing, deep cleansing, hydrating masks (to soften skin), extraction, antiseptic, soothing & hydrating gel, lymphatic pressure point massage and a double layer mask- honey mask & natural hard mask.
Soothing & Hydrating Gel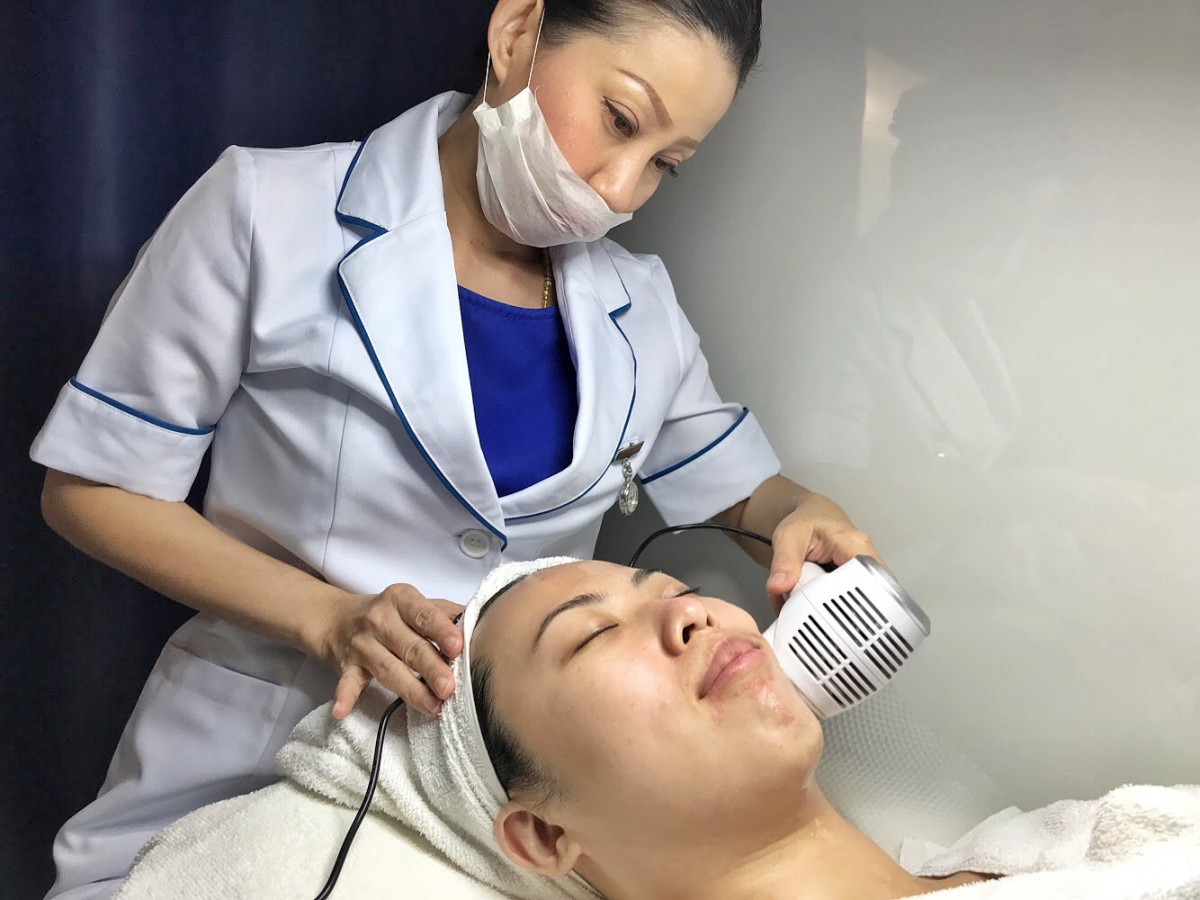 Extraction
Veron skilfully squeezed and removed the blackheads and clogged pores around my nose and even chin area.
Honey Mask
Natural Hard Mask
It feels minty and refreshing. The challenge is trying not to laugh and move as the mask hardens. The hard mask is made of all natural ingredients, mainly to help lock in hydration and boost the effects of the honey mask.
You leave this place feeling cleaner and my face is visibly smaller post-treatment.
Do you have skin woes and you're just frustrated or even stressed by the state of your skin?
Because Christmas is coming soon, you get to experience my journey for free. You just have to sign up here. Yes, experience my journey at no cost! Plus, you get to bring home a mini product set containing a makeup remover, cleanser, toner and moisturizer based on your skin condition. A joyous occasion!
Photo from New York Skin Solution
Before the year ends, give this a try and pamper your skin!
Photos & Post Sponsored By New York Skin Solutions
Text by: GirlStyle SG