It is rightly said that an amazing pair of shoe can boost a girl's style and confidence to another level altogether. If you are familiar with the story of Cinderella then you must be aware that women are completely obsessed with shoes. Girls believe that classy and comfy shoes have the power to change your entire look, hence we just can't stop raving about them.
Investing in the right kind of footwear according to what you wear is very important which people tend to forget especially while buying ethnic ensemble. There are three factors that have to be kept in mind like size, comfortability and attractiveness while you purchase your footwear to pair with traditional.
There is plenty of traditional footwear available in the market so you can find the right shoe for the right occasion. If you still find it difficult to match your Indian outfits with the appropriate footwear then here is some shoe motivation for you to crack it!
Kohlapuris
Photo from Krafted with Happiness
Photo from bollywoodremind.com
Photo from The Express Tribune
Want something casual and cute to go with your kurtas? Then fret not, Kohlapuri is the perfect option to go for.  Since they are flats and quite easily available in the market at an affordable price, they are a must-have in your shoe rack. Pair them with long skirts or suits for all the right ethnic feels and you can, of course, use them with your urban outfits to make it look all boho and chic for some extra masala. You can buy tan kohlapuris, with metallic straps, gota work, mirror work or for extra drama you can buy kohlapuris with some pom-pom.
Juttis
Juttis or also known as Mojaris can be considered a semi-formal and casual trend both, which have become a hot option for this season. They are basically flats that you can opt, like plain tan juttis for a versatile look on daily basis with kurtas, suits or anarkalis. You will spot a lot of fashionable Bollywood celebrities wearing these with their designer ethnic wear like lehengas and suits. Juttis are inspired by Rajasthan or Punjab and nowadays available in multiple styles that are loved by all the shoe lovers. If you are planning to visit a wedding event like sangeet, mehndi or wedding function then you can go for heavy embellished juttis that can add all the glam and colour to your outfit.
Sandals
Indian sandals are a great option if you are looking for an open footwear in the form of a slipper or wedge. Sandals also give you an option to add some height since they are available in heels too. They are voguish and add that something extra to oomph up your overall look. You can find sandals in various styles like kitten heels or with a little platform that will go with lehengas, suits and kurtas. They can practically work with anything ethnic according to your personal preference. However, it is always advised to go for minimum accents if you wish to wear the shoes on a day-to-day basis.
Heels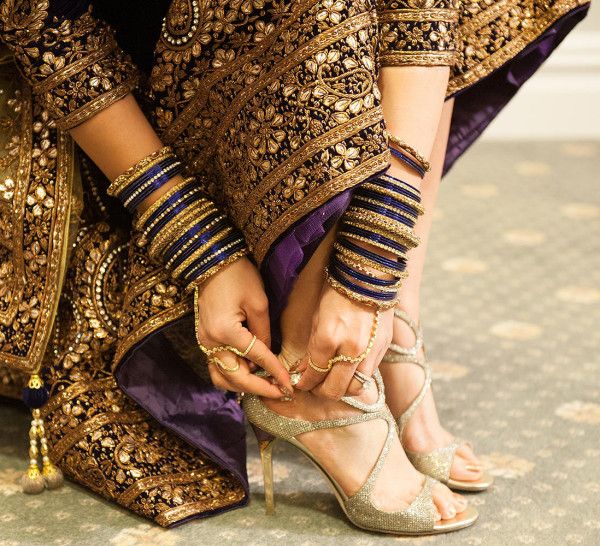 You can find some lust-worthy shoes online for festivals or for events like parties. There are various fancy heels that look stunning and ideal to pair with all sorts of function based outfits. Also, not to forget that heels do not look good with everything and can be a little uncomfortable to wear on a daily basis so these babies can be your go-to option for special events. You can invest in stilettos which look stunning in different colours like gold, silver, rose gold or even with crystals that can match your grand outfit.
Picture Credits- FashionPro, Bluefly.com, Pinterest, Witty Vows, That1Too, Fizzy Goblet, Quora, Sweet Couch, Krafted with Happiness, bollywoodremind.com, The Express Tribune, Imgrum, thebridalaffairindia
Text by-GirlStyle IN