Actress Sameera Reddy, who made her debut in Bollywood opposite Sohail Khan in the movie Maine Dil Tujhko Diya and gained recognition with films like Darna Mana Hai, Tezz and De Dana Dan, is expecting her second child with husband Akshai Varde who is an entrepreneur. The couple is already blessed with a baby boy in 2015, after which she decided to call quits to her acting career.
The actress has been away from the limelight for quite a while now, but she continues to stay quite active on social media. Sameera recently shared a picture on Instagram, flaunting her baby bump and captioned it as, "Halfway there! #baby#bump can't wait to meet you!"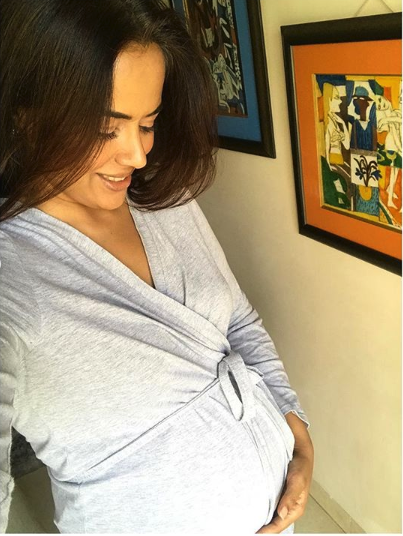 Sameera received tons of good wishes for her happy news of the second baby, but sadly she also got trolled by the social media fanatics over her pregnancy weight. However, this is not something that has happened for the first time. Believe it or not, celebrities are the first ones to get trapped in the phenomenon of body shaming. Actress Neha Dhupia was also fat-shamed by the netizens for not losing her post-pregnancy weight fast. She became subjected to hateful comments but she gave a powerful reply to the trollers saying that she doesn't owe an explanation to anyone for being fat-shamed over such an issue.  She said as, a new mother all she hoped is to be healthy, fit and energetic for her daughter and her priority is not centred towards fitting into the society's standards of looks.
And just as we thought, Sameera like a boss lady shut down her trollers and we are so proud. More power to you girl!
During a recent interview with a news agency, she said, " I want to ask trollers: 'Was your mom hot, when you came out?' It's shameful. Pregnancy is such a natural process. It's so beautiful. It took me time to (lose weight) with the first baby. Maybe it'll take me time with the second baby. But what's most important is to embrace yourself. And to all trolls: 'Say what you want guys, I think I have a superpower, I'm giving birth to a baby."
Sameera was clearly very upset with the trolls and she strongly called them out for comparing her to other celebrities in Bollywood. She further quoted, " There are sexy ones like Kareena who come out looking hot and then there are people like me who take time (to get back in shape) and it took me time with the first baby and maybe it will take me time with the second baby too."
The actress also shared her emotional thoughts while she was pregnant with first child, she admitted that she was conscious about her body and how she looked. She said that at first she was very shy and thought about a lot of things but now she has got over them and now she feels differently about it. Sameera quoted," I remember I used to cover up a lot during the first pregnancy. Now I'm like bring it on. I can also be hot when I'm pregnant. So it's just a matter of mindset."
Sameera looks very happy and seems to be enjoying her journey of being a mother again. Also, kudos for handling all the haters so well and congratulations on the khush khabri.
Picture Credits - Instagram
Text By- GirlStyle IN