It is a common trait among all the makeup beginners of not wanting to splurge excessively while shopping for their cosmetics. This kind of behaviour is well appreciated due to the fact that it will be useless to invest in high-end and luxury makeup, if a person is not well versed with the techniques to use it. Baby steps are always recommended for people who do not know the technique of applying the makeup properly or for people who have not applied makeup before.
Therefore, the basic kind of makeup is the best for these kind of people to use and learn the art. The best way is to buy makeup products that do not burn hole in our pockets and are easily available under Rs.100! Take a look some of makeup products that are available under the given amount.
Lacto Calamine Skin Balance Lotion
Photo from bebeautilicious
One of the best product to be used as primer is Lacto Calamine face care lotion. It is wonderful, helps in maintaining PH balance and prevent breakout on the skin.  Lifts the face up and hides the scars and blemishes on the skin. It is easily available in different sizes and skin types.
Garnier BB Cream
It is an exceptionally good product in its price range and can be used as base makeup. The cream in enriched with minerals and vitamin C. It not only gives face a flawless look but it also lightens the skin tone and contains spf 24 for protection under sunlight.
White Tone Face Powder
Established to be used as a skin tone lightening face powder, it is also great to be used as a setting powder. It sits wonderfully with the base and bakes the face preventing creases and harsh lines. The product as claimed is baby soft and it also absorbs the excessive oil from the skin preventing the makeup from blotting.
Lakme Eyebrow Pencil
Lakme eyebrow pencil is a creamy product made for colouring and filling the eyebrows. Like every other Lakme product, this eyebrow pencil is easily available and at reasonable cost. The product is real good as it does not smudge and it can be build easily depending upon the colour of user's eyebrow and the kind of look they are trying to achieve. One of the best part is that it does not look unnatural or fake.
Tips&Toes Compact Powder
Photo from indianmakeupandbeautyblog
It is one of the best and affordable compact product available in the market at this price range. The powder keeps face oil free for good 3-4 hours and is easy to touch up. It prevents face from looking like an oil factory and disintegrates all the harsh lines, blending them finely with the makeup.
Miss Claire Eyeshadow
Photo from throughmypinkwindow
These eyeshadows have beautiful and shimmery finish. Even though they do fall out, they are long lasting on the eyes and are really pigmented. They have good amount of sheen and they blend like anything. They have beautiful texture that makes the task of blending them super easy. There are few shades like 0904 and 0588 that can be doubled as highlighters as well.
Avon Plug & Play Lip & Cheek tint
Avon plug and push lip and cheek tint is a wonderful product that doubles as lip colour and cheek tint, as the name suggests. It is available in different shades and it extremely easy to carry anywhere. It is applied on the skin and then quickly blended with fingers to achieve that natural hue on cheeks and in the similar manner it can be rolled on lips for the natural look. It is a long lasting product available at affordable price.
Streetwear Kajal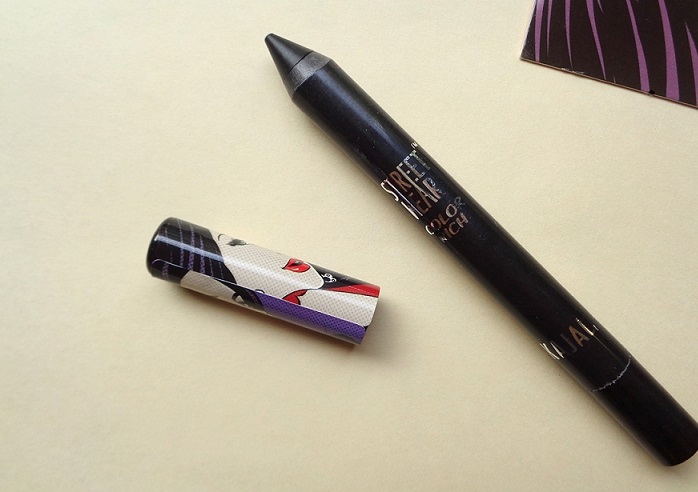 Photo from vanitynoapologies
The Kajal is creamy in texture, it is ultra dark and long lasting. It is pocket friendly and can be used on daily basis as Kajal and even for achieving the smokey eye look. It is easy to blend and therefore can be applied on eyelids and blended for smokey finish. The product is waterproof and highly pigmented. The colour stay puts and does not look messy at all.
Elle 18 Colorpop Eyeliner
Photo from shopping, styleandus
Elle 18 liquid colorpop eyeliner is the perfect product for using on daily basis. The colour range is wide and the formula contains some shimmer in it to make the eyeliner pop when applied. It does not smudge and sets quickly after application. The consistency is just perfect and it brings the oomph factor to entire eye makeup. It is long lasting and comes in good quantity, so it can be used for a while.
Elle 18 Colorpop Lipstick
Elle 18 colorpop lipsticks are extremely fun and perfect for daily use. Their shade range is quiet big and the colours are just perfect for all the young girls who want to look beautiful and fun. The lipsticks are long lasting and beautifully pigmented. They give deep and rich colour in just one stroke and provide matte finish.
Pictures- pout pretty, throughmypinkwindow, mariahazel, vanitynoapologies, eyebrow.gayaba.org, bebeautiliciois, shopping,style and us, carousel, indianmakeupandbeautyblog
Text- GirlStyle IN