A beautiful landscape on fabric. 
These merchs produced by Cath Kidston, featuring Disney Bambi collection will steal your hearts<3
I'm still completely obsessing over the @cathkidston_ltd bambi range! It is seriously pretty and I want it all! I really really want it so I think I may treat myself on my next London trip in a couple of weeks. . . . . #disney #disneyfan #disneyfanatic #disneycollectoruk #disneycollector #disnerd #disneyig #instadisney #disneygram #disneyiger #disneystyler #disneyfashion #disneygramers #cathkidston #cathkidstondisney #cathkidstonlover #cathkidstonbag #cathkidstonkitchen #cathkidstonbambi #disneyfashion #disneylife #disneylifestyle #disneystyle #mydisneylife #mydisneyside #disneystyler
Ooooh a little sneak peek of the bambi Cath Kidston range on this morning 😍 can't wait for this to hit the shops #cathkidston #cathkidstondisney #disneycathkidston #cathkidstonbambi #bambi #thumper #disney #disneyfan #disneyfans #disneylove #disneyaddict #disnerd #disneyfind #disneyfinds #mydisneyfind #mydisneyfinds #lovedisney #ilovedisney #welovedisney #minnie #minniemouse #mickey #mickeymouse #waltdisney #newcastle #newcastleupontyne #disneyuk

A post shared by Laura's Disney Finds (@disneymissquilt) on
Through Cath Kidston's UK website, you can buy them at a discount. All of these are 3 for 2!
The current forex exchange rate is £1 = #1.75  SGD.
Bambi 40 x 40 Cushion (£25.00, or $43 SGD)
Bambi Scene 30 x 40 Cushion (£25.00, or $43 SGD)
Bambi Rose Single Bedding Set (£65.00, or $112.50 SGD)
Bambi Rose Double Bedding Set (£80.00, or $138.50 SGD)
Bambi Rose PJ Set (£55.00, or $95 SGD)
Bambi Rose Lightweight Backpack (£42.00, Or $72.70 SGD)
Bambi Rose Leather Crossbody Bag (£85.00, or $147 SGD)
Bambi Rose Foldaway Overnight Bag (£55.00, or $95 SGD)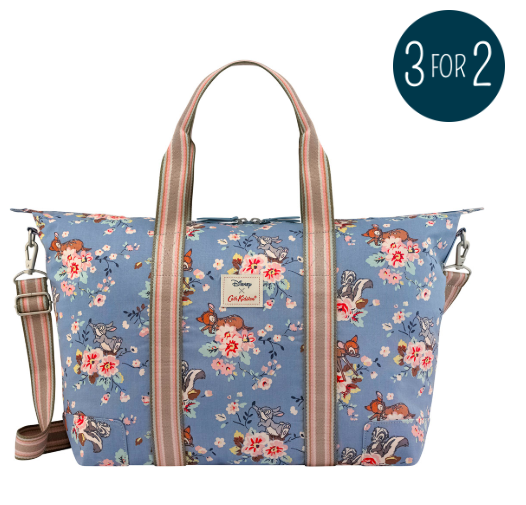 Bambi Tapestry Pouch (£20.00, or $35 SGD)
Bambi Rose Folded Zip Wallet (£35.00 or $60.50 SGD)
Mini Bambi Rose Small Compact Wallet in Leather (£55.00, or $95 SGD)
Bambi Set of Two Tumblers (£22.00, or $38 SGD)
Bambi Rose Mug (£10.00, or $17.30 SGD)

Bambi Ditsy Tea for Two (£35.00, or $60 SGD)

They offer international shipping options, from £7 and it takes 7-10 working days. (As stated on their website.)
They also have other kitchen supplies such as plates, mugs, tumblers, water bottles and more.

View this post on Instagram
My @cathkidston_ltd arrived today and it's so stunning in person! Love the Bambi range 💖 now to find a home to showcase it all #cathkidston #mycathkidston #cathkidstoncollection #cathkidstondisney #cathkidstonbambi #disneybambi #bambi #teafortwo #thumper #disneythumper #disney #floral #pretty #stunninginperson #myhome #homedecor 💖

A post shared by Sally Bannon (@floral_vintage_home) on
For more information and purchase, you can find the website here.
I LOVE this collection so much, it's so pretty!😍 @cathkidston_ltd #cathkidstonbambi #cathkidston #cathkidstondisney

A post shared by Sarah-Jane (@sarahjaneclaxton_sw) on
Text By: Girlstyle SG